Looking for an interesting summer read? Check out Raising the Curve by journalist Ron Berler. Berler spent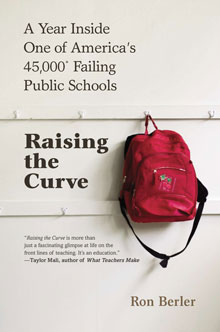 a year as a volunteer teacher aide chronicling the challenges students and teachers face at Brookside Elementary, a high-poverty school in Norwalk, Ct.
The author saw first-hand the difficulties teachers experienced as they worked to improve student test scores on the Connecticut Mastery Test under No Child Left Behind. He also delves into the devastating impact poverty and low parental involvement has on student success.
In an interview on WAMC radio, Berler talks about the students, teachers and staff at Brookside and how they never give up on themselves or on one another.